What is study centric data management?
Study centric data management is available by default for new Cochrane reviews from April 25th 2023.
Authors with ongoing protocols should consider using study centric data management given the benefits listed below (by using the 'enable advanced feature' option on the RevMan Dashboard - see green box in below image).
Authors that have started the data extraction stage or who are updating a review may wish to use study centric data management, but it will require completed work to be repeated to ensure the correct setup.
What is study centric data management?

If study centric data management is enabled for a review, the Dashboard in RevMan has these changes (red boxes):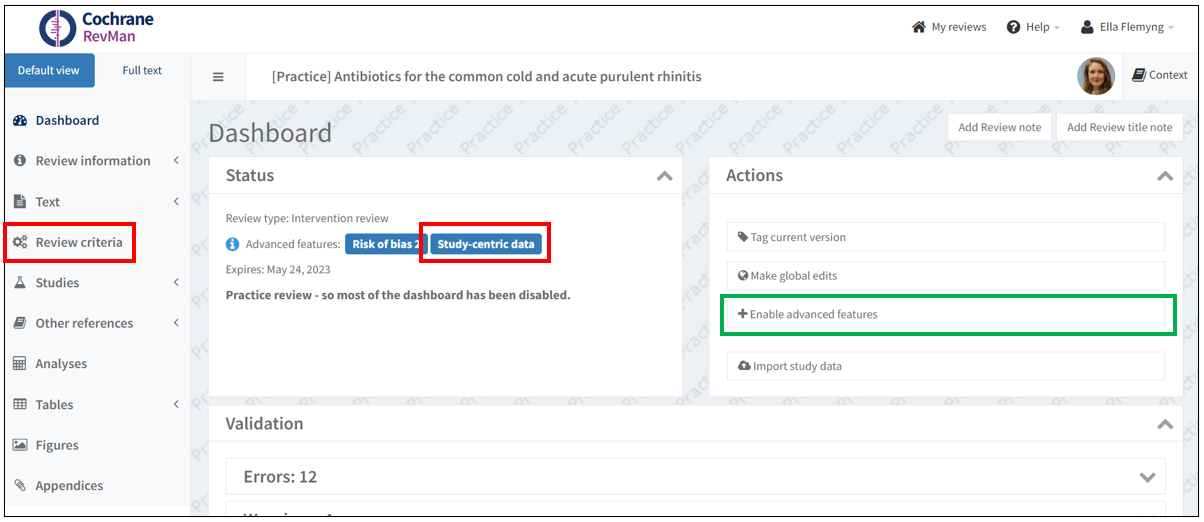 Authors set up their review's inclusion criteria and analyses within RevMan in advance (protocol stage) to facilitate data extraction and automatically populate their analyses.
It enables authors to work smarter in RevMan. Authors invest more time earlier in the review process to streamline the latter analyses stages. This facilitates better defined and more focused reviews, with clearer review criteria and clearer criteria for the planned syntheses.
Core methods underpinning the study centric data management structure are included in chapter 2 and chapter 3 of the Cochrane Handbook for Systematic Reviews of Interventions and the Intervention Synthesis Questions (InSynQ) checklist (in development), which relate to defining the criteria for including studies (PICO criteria for the review) and defining criteria for how studies will be grouped for synthesis (PICO criteria for synthesis questions).
Key benefits of using study centric data
Helps authors think more systematically about how to structure their analyses earlier in the process.
Study results data are added in one place in RevMan and can be re-used for different analyses, including subgroup and sensitivity analyses, which reduces the time to generate analyses and reduces the risk of data entry errors.
Easy transfer into RevMan of included study characteristics, results data and risk of bias assessments through imports.
Easy transfer out of RevMan of included study characteristics, results data, risk of bias assessments and review analyses data through exports, for example, for further analyses in other statistical software or re-using in other Cochrane reviews.
Automatic transformation of data from arm level to contrast level data for specific analyses, where applicable.
Simplified interpretation of results as authors can (1) investigate boarder and narrower synthesis questions based on different levels of intervention granularity and (2) subgroup and filter for sensitivity analyses based on study characteristics (covariates)

.

Longer term, study centric data structure enables the introduction of new statistical methods.

Facilitates

a

new

downloadable

data

package associated with

published

Cochrane

reviews

t

o

increase impac

t

,

open opportunities for collaboration, reduce research waste,

and

make systematic reviewing more efficient

.
What are the differences between the data management options in RevMan?

Authors can decide which data management option to use for their review. The two options are:
Study centric data management:

Study result data is entered and stored at the study level (results data is stored in one place, study level, and used in different analyses)

.
Custom input data management:

S

tudy result data is entered and stored at the analysis level (results data is duplicated in each analysis' data table). This is the traditional analysis type.
It is currently not possible to migrate all existing custom input analyses to study centric data analyses. Therefore, a review can include both study centric data analyses and custom input analyses.
This flow diagram of the review process shows tasks specific to study centric data management (green), custom input data management (pink) and those tasks relevant to both processes (blue).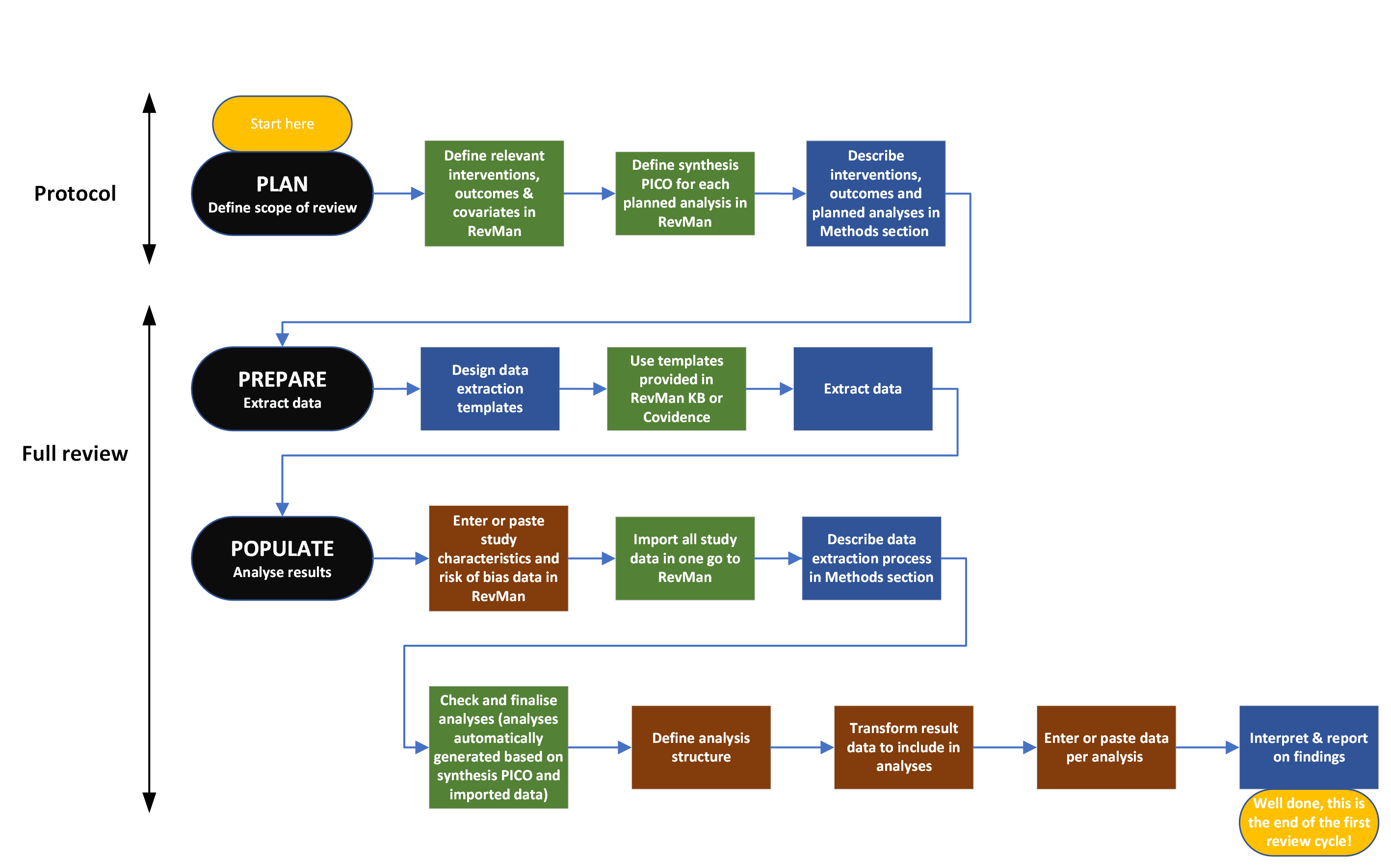 The table below presents the types of analyses available in two approaches and how they are set up.
Type of analyses

Custom input analyses

Study centric data analyses

Analyses without subgroups
Yes.
Yes.

Subgrouping by a characteristic of the included studies
e.g. by outcome measure - a study falls under one of the categories of the covariate

Yes.
Yes, set covariate categories for each study and choose subgroup factor in the synthesis PICO.
Subgroup by risk of bias
Yes.
No, implementation planned. Use custom input analysis for now.
Combining arms
Yes, with the help of the calculator in RevMan 5.
Yes, done automatically.
Splitting control arms
e.g. in analyses that subgroup by the type of intervention (e.g. low-dose vs high-dose),
sometimes the same control arm is used multiple times
Yes, compensate for this by "splitting" the control arm, so that the overall pooled estimate wouldn't be over-confident.
Yes, the study will automatically be counted only once for the pooled estimate. But this is only relevant when subgrouping by intervention is implemented.
Create analyses with contrast data (called GIV in custom input analyses)
Yes.
Yes.
Create analyses with different types of granularity of interventions (e.g. any antibiotic vs placebo and A specific antibiotic vs placebo)
Yes.
Yes.
Subgroup by property of the intervention groups (arms)
Yes.
No. Use custom input analysis.
Subgroup by variants of the outcome
Yes.
No. Use custom input analysis.

Subgroups within studies, e.g. subgrouping the participants of a study

Yes.
No. Use custom input analysis.