Skip to end of metadata
Go to start of metadata
Authoring
Refer to Cochrane Review proposals
Flowchart
Flowchart for considering new proposals for new Cochrane Reviews: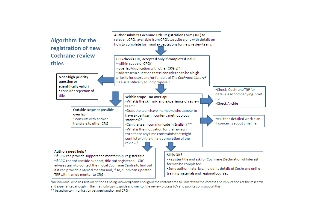 Editorial workflows
On receiving a completed Review Proposal Form, the Cochrane Review Group Managing Editor will initiate a Title Registration workflow (see flowchart in workflows section).
Title formats
Cochrane Reviews need to adhere to the standard formats for Cochrane Review titles, as set out in Table 4.2.a of the Cochrane Handbook.
Non-standard titles are automatically alerted to the Cochrane Editorial & Methods Department, where they will be considered alongside current guidance for title structures in the Cochrane Handbook. The Cochrane Editorial & Methods Department may suggest alternative title formulations, but the final decision on a title rests with Cochrane Review Groups.
Scope
In situations where a Cochrane Review Group editorial team considers a proposed title to be potentially important but outside the scope of their group, they may ask the Cochrane Editorial & Methods Department to assist review author teams in finding an appropriate Cochrane Review Group.