Internal links
Highlight the text you want link to, click on the 'Insert link' icon. Select the first paper clip, for adding an internal link.

A dialog box will then appear, and you can choose whether linking to a Study, Other reference, Summary of findings table, Additional table, Analysis, Figure, Comment, Appendix, or Other section.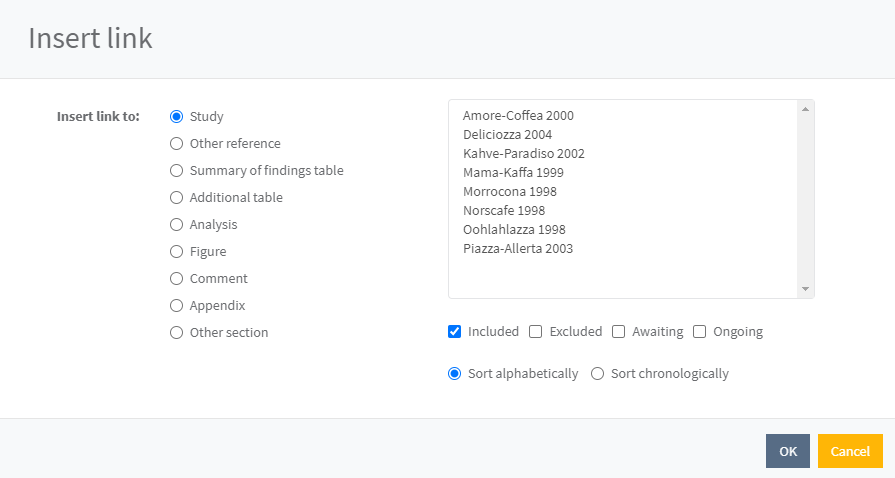 Links to other parts of the review must be added as internal links from the Insert link window. Do not copy and paste from another part of the review, or from another review. This will ensure that links are dynamically updated if edits are made to other parts of the review, and ensure links are not corrupted.
It is not possible to add a link to the "Summary of Findings and assessment of the certainty of the evidence" section of the review, as adding this link would cause problems with compatibility with RevMan 5.
Reorder links to references
If multiple references or study links are included together, they should appear in alphabetical order. If multiple links are added at the same time, this ordering will be done automatically. If you have added them separately, you can order them by highlighting text with multiple links out of order, and selecting the Reorder links button. This will then re-order them alphabetically. You can also highlight an entire paragraph or text section, click the Reorder links button, and all lists of links in the selected text will be ordered alphabetically. Please note, for this function to work correctly, all reference links must be separated by a semicolon.

External links
Ensure the text you want to link to an external link has been correctly added to your text box. Then highlight the text you want link to, click on the 'Insert link' icon. Select the first icon, for adding an external link.

If choosing to include an external link, a pop-up box will open for the link URL.

If the link has been correctly added, the link will then appear below the linked text in blue.

Navigating to links in the text
To navigate to a link in the text, click on the link. A pop-up will appear below, and you can either click on the blue link below to navigate to the link, click on the pencil to edit the link, or click on the paperclip with an x to remove the link from the text.
Once navigating to the link, you can then click the Back button on your browser to return to where you were in the text of your review.