From 1 September 2023 all new draft submissions should be transferred directly to the Central Editorial Service. Please continue the editorial process for revised submissions only. If you have any queries about the best action to take for a particular submission, please contact Cochrane Support.
Initiate Discussion
Initiate Discussion on the manuscript Action Menu allows Managing Editors to begin a conversation with other editors regarding a submission.
There are built-in Discussion topic templates in Editorial Manager related to:
Expressions of Interest
Review Proposal Forms
Methods Support Unit referral pre-submission
Methods Support Unit referral post-submission
Use the Master topic template to start a discussion on any topic.
Discussions can be a useful way of asking other editors to review collated peer review comments. See Ask another Editor to review collated comments: Discussion.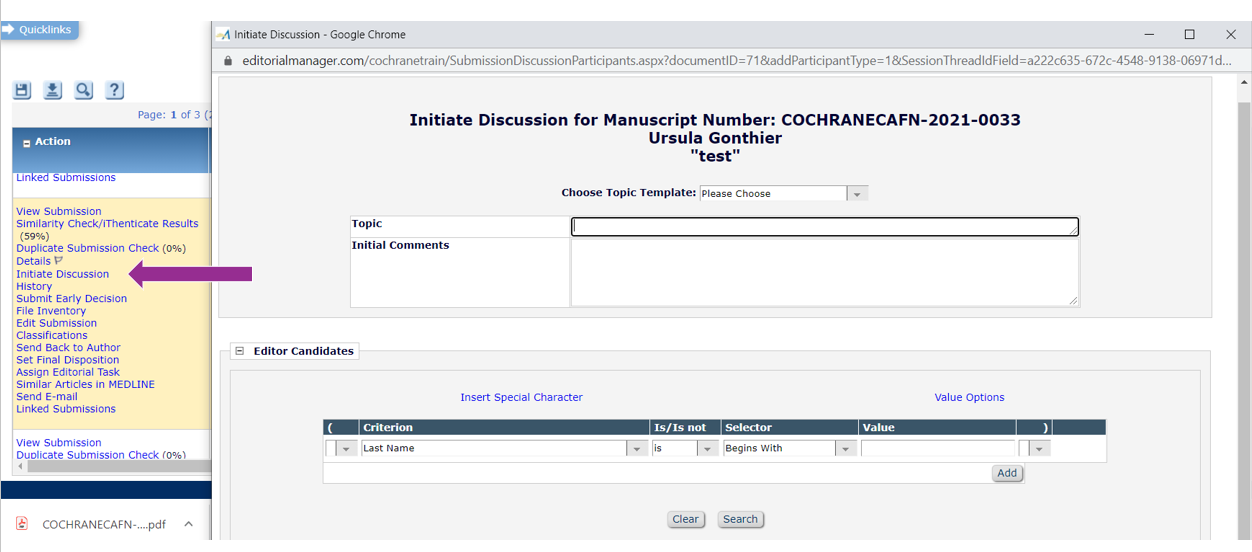 Select participants and set viewing permissions
Search for editor(s) under Editor Candidates and Select the participants you want to join the discussion
To invite multiple participants to a discussion, use a search criterion that covers all participants - e.g. People Flag Name.
Select whether participants can View Reviews and Comments, Download Files (source and companion), and View Draft Decision Letter
Proceed to Customize Letters
The email sent will contain a link to log in and view the discussion
Managing Editors will receive an email notification when there is a response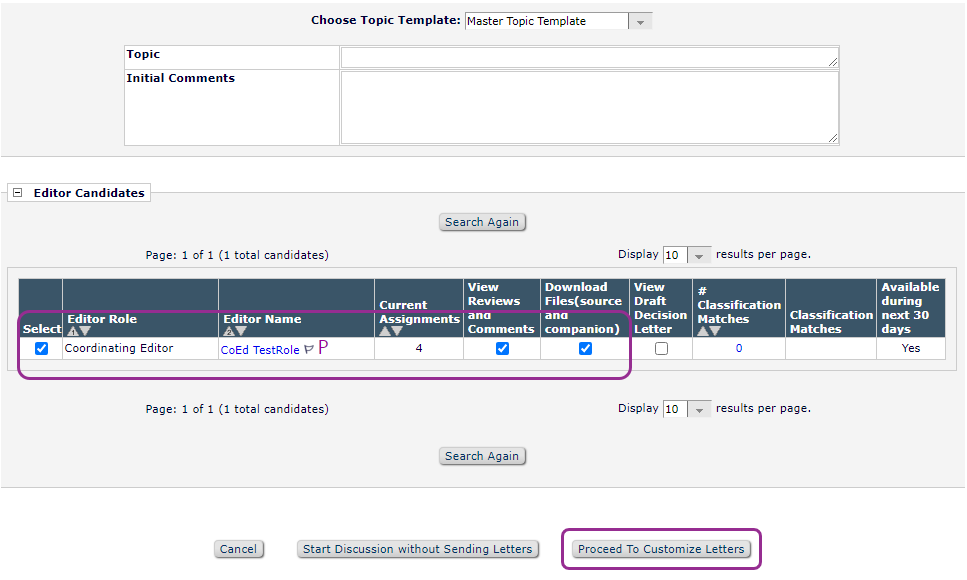 Send reminders to participants
Use the Send Email function on the discussion screen to remind editors to contribute.
Send Email
Choose letter Discussion Invitation
The email will contain a link for the participant to access the discussion directly

Customise Letter

as needed to add a reminder and/or further information
Preview and Send > Send Email

Conclude Discussion
When you have received the feedback you need, you can Conclude Discussion from the discussion screen.

Discussions with Methods Support Unit
Open a Discussion in Editorial Manager to ask for Methods Support Unit input on a review. Two Discussion templates are available:
Methods Support Unit referral pre-submission for Proposals (please note that the Initiate Discussion

link is visible on the

Details

screen for Proposals)

Methods Support Unit referral post-submission for Submissions
Customise the Methods Support Discussion templates as you wish.
Search for participant Rachel Richardson rrichardson@cochrane.org
You can also use the search Editor Role | Is | Methods Support
Children and Families site
Rachel Richardson has the Editor Role Associate Editor on this site.