From 1 September 2023 all new draft submissions should be transferred directly to the Central Editorial Service. Please continue the editorial process for revised submissions only. If you have any queries about the best action to take for a particular submission, please contact Cochrane Support.
New and revised title proposals, protocols, reviews and updates are visible in your Main menu under:
Direct-to Editor New Submissions
Direct-to Editor Revised Submissions
See also Corresponding Editors.
Actions to take for a new submission
Send Back to Author?
When a new submission comes in, before you assign it to yourself or another editor, you can access the submission in your New Assignments folder. View Submission to:
Preview the PDF and check the correct version has been submitted from RevMan.

Some elements of the review will be available as a zip file of Supplementary Materials, which you can download via an embedded link on the final page of the PDF.
Check that all authors are listed with the correct contact email address.
IMPORTANT
The corresponding author must list all co-authors correctly when submitting a new draft for the first time. This ensures all authors receive a notification from Convey asking them to declare any relevant interests. See Declarations of Interest.
If you identify an issue with the submission, use the action Send Back to Author to return the submission immediately to the corresponding author to make changes.
The action Send Back to Author is only visible whilst the submission is unassigned. If you have assigned the submission to yourself or another editor, you can use action Unassign Editor to send the submission back to the author.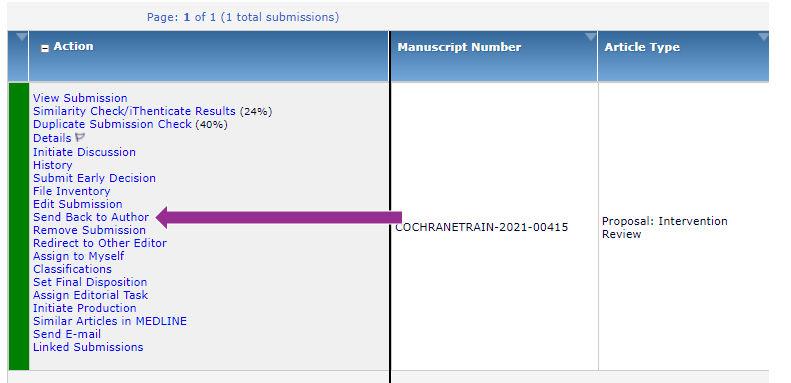 You can Customise the Author Notice - Quality Check failure email to specify any actions the author needs to take.
The submission will return to the corresponding author and will be visible in the Submissions Sent Back to Author folder on the author's Main Menu. The author should Edit Submission to make the requested changes and re-submit.

Complete the linked Proposal
When a new submission comes in, the matching Proposal (invitation to authors) will show in the Proposals with Invited Submissions Received folder on your Proposal Menu.
Please note that this is a Network-level folder.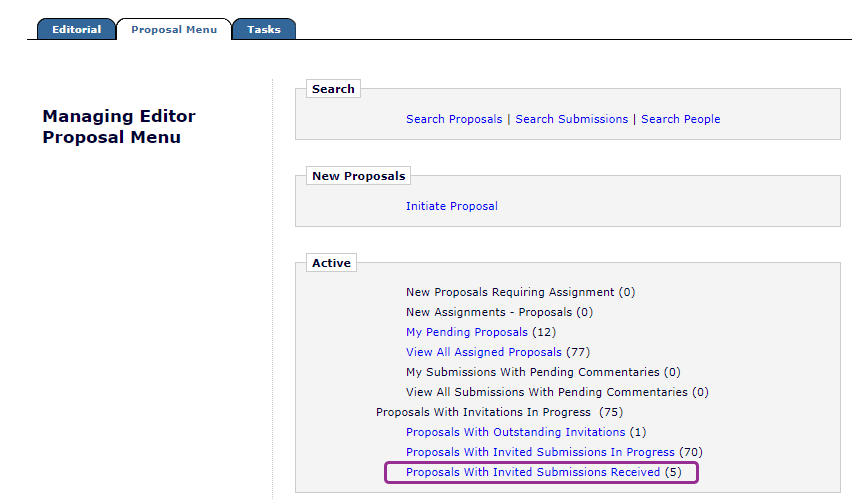 You can then Set Final Disposition on the proposal and choose Completed Proposal to move this proposal to the My Completed Proposals folder.

This is not essential but helps to keep your proposal menu tidy!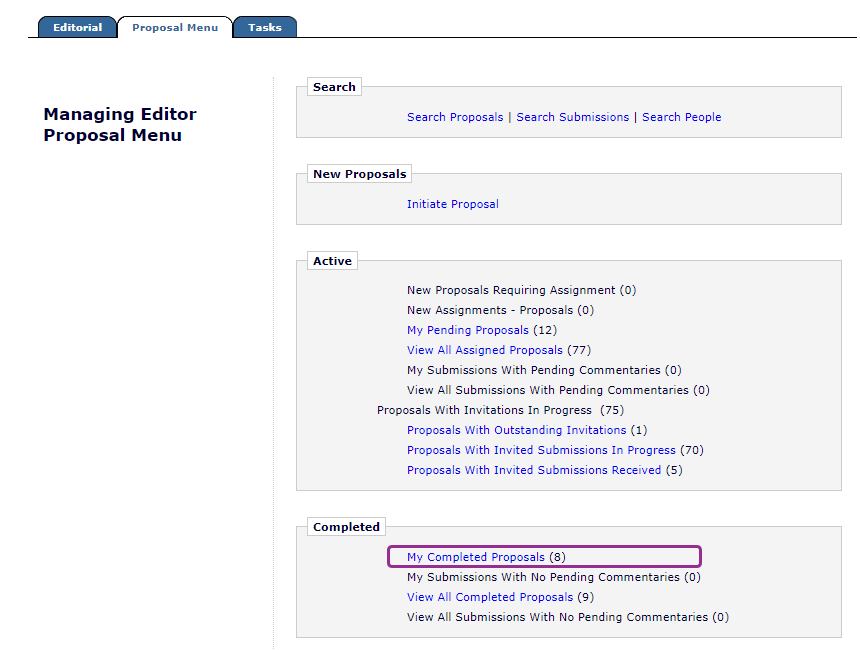 Edit the Section/Category (for transferred submissions)
If a submission is transferred to you by another editor, you can Edit submission to change the section/category to your group.