RevMan Web - a brief orientation guide
How do I access my review?
RevMan Web is available at: revman.cochrane.org
If you want to write your intervention review in RevMan Web and help the review production team improve the software, please sign up using this form.
Note that in this version of RevMan Web, you cannot create a new, empty review – you can only work on registered Cochrane Reviews. Talk to your Cochrane Review Group about registering a new review, or click here to find out more.
How does RevMan Web work?
RevMan Web is online; just click on the link to your review to start editing your review. There is no need to check your review in and out of Archie, as with RevMan 5. All changes you make in your review are continuously and automatically saved, so there's no need to save or back up your work.
RevMan Web also allows concurrent editing. In other words, you and your co-authors can work simultaneously on different sections of the review. If you happen to work simultaneously on the same section, RevMan Web will notify you that changes have been made by another co-author when he or she leaves the section.
You can still work on your review in either RevMan 5 or RevMan Web. However, please note:
- If the review is checked out in RevMan 5, you cannot edit it in RevMan Web, you can only view it.
- If you are working on your review in RevMan Web and a co-author checks it out in RevMan 5, it becomes locked and you can only view, not edit it in RevMan Web.
- As soon as the review is checked back in from RevMan 5, it is available to edit in RevMan Web.
- Using Risk of bias 2 tool and/or integration with the GRADEpro GDT software will break the compatibility between RevMan 5 and RevMan Web.
The Review Dashboard
When you log in and select your review, the first thing that you see is the Review Dashboard: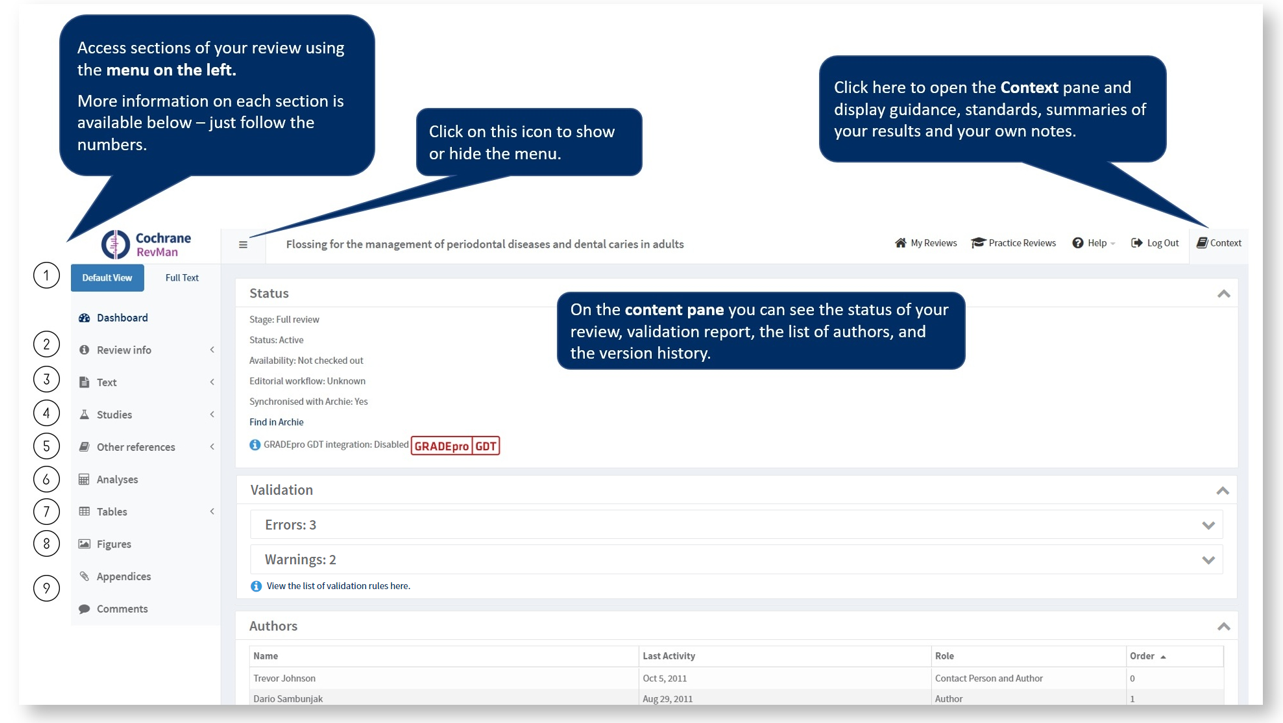 The review is shown in the default view, which is organized in sections explained below. You can switch to the full text view, which follows the structure of a published Cochrane Review and allows global searching.
---

The Review info section is where you can access the author list, key dates, and some important information about the review: Differences between protocol and review, Acknowledgements, Contributions of authors, Sources of support, Declaration of interest, and Published notes.
---

The Text section contains the main body of your review, beginning with the summary versions (Abstract and Plain language summary). The headings and functions for editing text are the same as for RevMan 5. Click on a section to begin editing the text.
You can add notes as you work on your review. The notes appear in the Context pane, which you can display by clicking the Context button at the top right of the screen, and clicking the Notes heading. There is one note box per section, which can be shared and edited by all review authors.
When in the 'Text' section, the Context button also includes popup links to your 'Summary of findings' tables and the results of the analyses, including forest plots. This provides easy access to the results you may be describing in the text.
---

The Studies section contains Included studies, Excluded studies, Studies awaiting classification and Ongoing studies.
Note that in the current Beta version, it is not possible to import studies (though you can add them manually). Importing studies has to be done in RevMan 5. RevMan Web allows bulk import of references that can then be assigned to the studies.
All studies in each category are presented on the same page, and you can click on the arrow icon to show more information about each study. The arrow icon is also used in other sections of RevMan Web.
When you click on a reference, the study characteristics and (for included studies) risk of bias assessment are presented in a summary display. Note that the study characteristics and risk of bias assessment are not in the Tables section, as in RevMan 5.
Click on 'Edit Study' at the top right of the summary display and select a tab to edit the References, Characteristics, or Risk of Bias assessment. Click on the 'Edit Characteristics definitions' button to add, delete or edit table rows in the 'Characteristics of included studies' tables across all the included studies. To edit the Risk of Bias Judgement or Support for judgement, click on the Risk of Bias tab.
Use 'Back to included studies' link to return to the list of included studies. The 'Action' button allows you to move a study to another category, or delete it.
---

The Other references section includes Additional references to other studies and articles, which you will typically use in the 'Background' and 'Discussion' sections. This section also includes Other published versions of your review, and Classification pending references. Click on a reference to edit it.
---

Analyses are presented by analysis groups (previously called 'comparisons') at the top level and by analyses (previously called 'outcomes') at the lower level. You can add a new analysis group, and then one or more analyses for that analysis group. After you create an analysis, on the 'Data' tab you can add a study from the list of included studies and enter data for that study. On the 'Options' tab, you can choose the options for meta-analysis and display of results. On the 'Graphs' tab, you can edit the forest plot, including the scale and labels.
You can use the 'Edit Analysis Group' and 'Edit Analysis' buttons to edit the analysis groups and analyses already listed. Using the 'Action' button you can reorder the analysis groups and analyses, make a duplicate, or delete what you do not need. Note that a deleted analysis group and analysis cannot be retrieved.
---

The Tables section contains 'Summary of findings' (SoF) tables and Additional tables. Revman Web is integrated with GRADEpro so you can create and update the SOF tables according to the analyses in RevMan Web.
---

The Figures section can contain images created within RevMan or images (png or jpeg) created outside of RevMan. When you are adding a new figure, you can select from a list of predefined items, which includes PRISMA flow diagram, forest plot, funnel plot, risk of bias graph, risk of bias summary, and other figures (which allows you to upload an image of your choice).
---

The final two items on the left-side menu are Appendices (allowing the title and text to be entered) and Comments (which contain any formal feedback from review readers and users submitted after publication).