Tracking production tasks
Track a submission to publication
You can track a submission through production.
On your Main Menu, go to your Tasks Tab > View All Submissions in Production. Locate the relevant submission and view History > Production Task History.
The History will show all open and completed tasks.
Some are completed automatically and others need to be submitted manually by the Assignee.

The tasks listed in the table below, will open and complete in order.

All tasks need to be completed for a review to publish.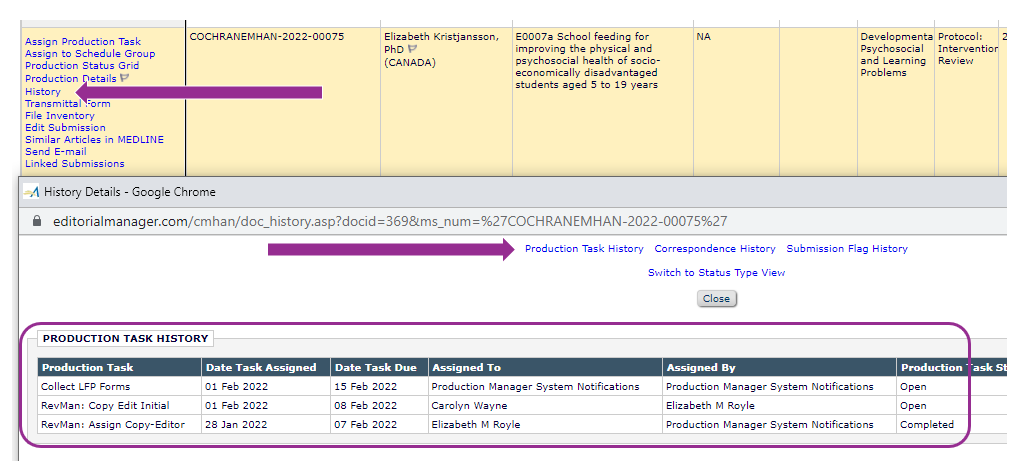 Production tasks
Amendments without a new citation, and without LfP forms, require only tasks 9-16 to be complete before publication.
Submissions entering EM for publication only (copy-edited in Archie) require only tasks 2, and 9-16 to be complete before publication.
Production task
Assignee
Due date (days)
Task description
Notes

1. RevMan: Assign Copy Editor

Production Manager, Elizabeth Royle
10
Elizabeth Royle allocates a Copy Editor to the submission.
LfP forms will be released when this task is completed (when a copy editor is assigned).
2. Collect LfP Forms
Production Manager System Notifications (dummy account for automated tasks)
7
Notifications with a link to complete Licence for Publication forms are sent to authors.
This task closes automatically when all LfP forms are submitted. Submitted f

orms are available in a zipped file on the File inventory in EM.

3. RevMan: Copy Edit Initial
Copy Editor
14
Assigned Copy Editor edits the submission and adds comments and queries for authors to Copy Edit Comments Form.


4. RevMan: ME Review Copy Edit
Managing Editor
7
Managing Editor reviews Copy Editor changes (may resolve some) and passes outstanding queries to authors.


5. RevMan: Author Proofs
Corresponding Author
7
Authors address Copy Editor queries, make requested edits and review final proofs. Annotate Copy Edit Comments Form to track resolution of queries.


6. RevMan: ME Review Author Proofs
Managing Editor
7
Managing Editor reviews author changes.
If needed, after this step, another round of initial copy edit can be completed. If this is the case, contact Support.
7. RevMan: Assign Copy Editor (final proofread)
Production Manager, Elizabeth Royle
10
Elizabeth Royle allocates a Copy Editor to the submission - this is the same Copy Editor who completed the initial round of copy editing unless blocked by annual leave.


8. RevMan: Copy Edit Final
Copy Editor
7
Assigned Copy Editor checks authors have addressed comments and queries for authors raised at initial round of copy editing - or if not, if explanatory notes have been added.
When this task is completed, and all LfP forms are submitted, the submission will be ready for publication.

9. Unpack RevMan Source

Production Manager, Cochrane Support
4
Copy-edited RevMan files are uploaded to EM.
No further changes to text can be made after this point.

10. XML Intake

Production Manager System Notifications (dummy account for automated tasks)
Instant
XML processing tasks to generate publishable files.
Tasks complete automatically once the previous task is completed.

11. Finalise XML

12. Assign Licence in XML

13. Prepare for Publication

Production Manager, Cochrane Support
4
Final check of production details (e.g. embargo date) before release to Wiley.
All Licence for Publication forms must be submitted for this task to open.

14. Deliver to Cochrane

Production Manager System Notifications (dummy account for automated tasks)
Average time 30-60 minutes
Files are delivered to Wiley for publication.
Tasks complete automatically once the previous task is completed.

15. Deliver to Wiley

16. Publish on Cochrane Library
Production task history of a published submission