Protocols, reviews and updates
From 1 April 2023 groups should not create invitations to submit with a deadline later than 31 May 2023. If you have authors who need to submit drafts after this date, please contact Cochrane Support to ensure the authors are invited to submit their draft directly to the Central Editorial Service.
Invite the next stage in the review lifecycle
Review lifecycle: Proposal → (Title Proposal) → Protocol → Review → (Amendment) → Update
Where the previously accepted or published version of a review is available in EM, you do not need to initiate a proposal.
Instead, you can invite a new submission based on the previously accepted or published submission. For example: if you have accepted a full title proposal, you can invite authors to start working on the protocol. When the protocol has been published, you can invite authors to start working on the review.
In Editorial Manager this action is known as Solicit Commentary (commissioning a follow-up publication). This links the submissions together in the system so you can see the review progressing through its different stages.
Solicit Commentary
Find the original or 'parent' submission in My Assignments with Final Disposition or All Submissions with Final Disposition > Accept in your Main menu.

Solicit Commentary

from the Action menu.

Send invitation/assignment email to Corresponding Author
Select from the available options in Pre-select Article Type for Invited Submissions generated from this Submission to choose the next stage of the editorial process - e.g. if you have just accepted a protocol for a DTA review, select Review: Diagnostic Test Accuracy.

Add the Author Response Due and Author Submission Due dates if relevant.
Search for the Corresponding Author by name.
On the Author Candidates screen, select to

Inv

. (Invite) or

Asn

. (Assign) the Corresponding Author.
Select the correct Author Invitation/Assignment Letter for next review stage and send the email to the Corresponding Author. You can cc. the other authors in the team if you wish.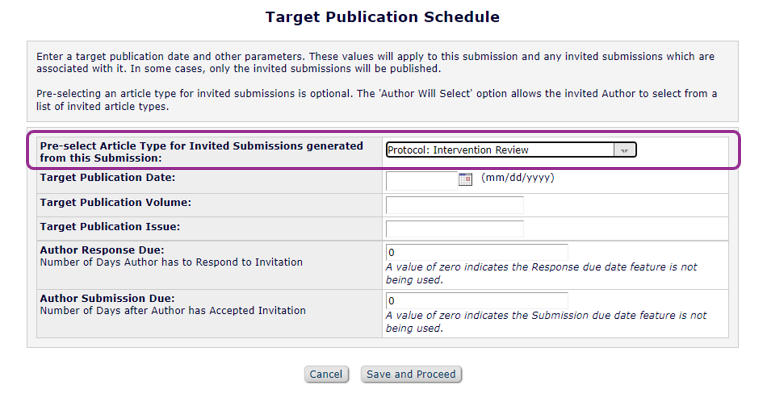 Until the authors submit their next draft, the placeholder entry for the next submission will be visible in

Submissions with Pending Commentaries

on your Proposal menu.

When the next draft is submitted for editorial approval, you can View Related Submissions on the Action menu of any linked submission to see the different stages of the editorial process.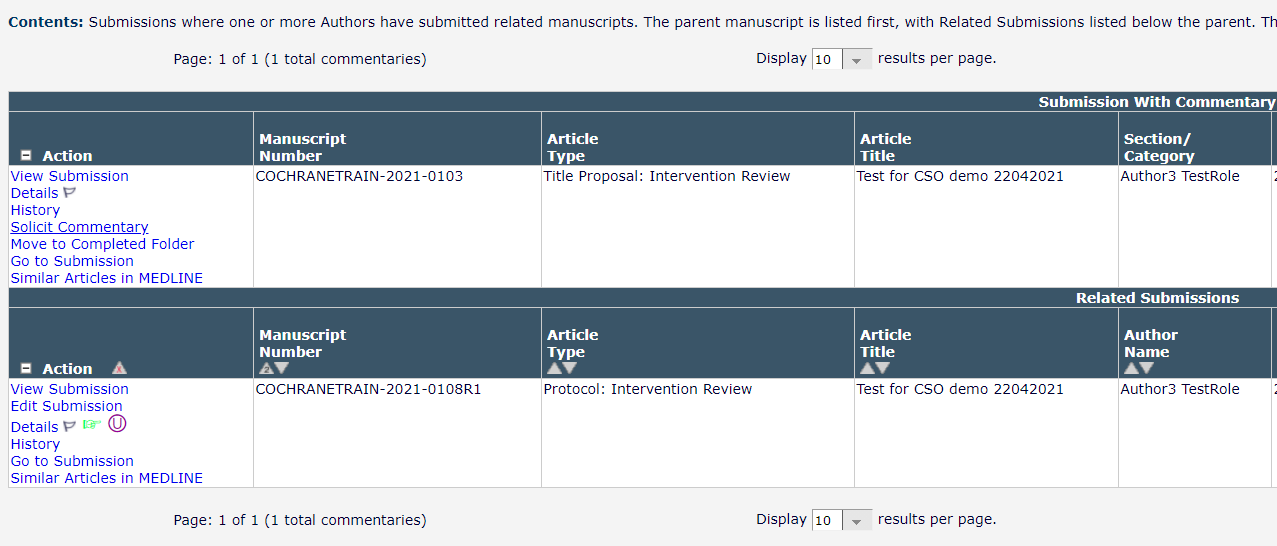 Have I solicited commentary correctly?
To confirm if you have correctly invited the Corresponding Author to submit the next stage, you can:
Check submission Details > Author(s) Invited to Submit Commentary.
Check submission History > Correspondence History to confirm that the invitation/assignment email was sent to the Corresponding Author.